Happy St. Patrick's Day from Gil's! We hope you're wearing green and won't get pinched on this day of luck and leprechauns. While most couples don't typically opt for a St. Patrick's themed wedding, there are a few cues we can take from today's festivities that work well year round. Add a little touch of Irish luck to your Dallas wedding catering with our favorite St. Patrick's Day influences (for March 17, or any day of the year!).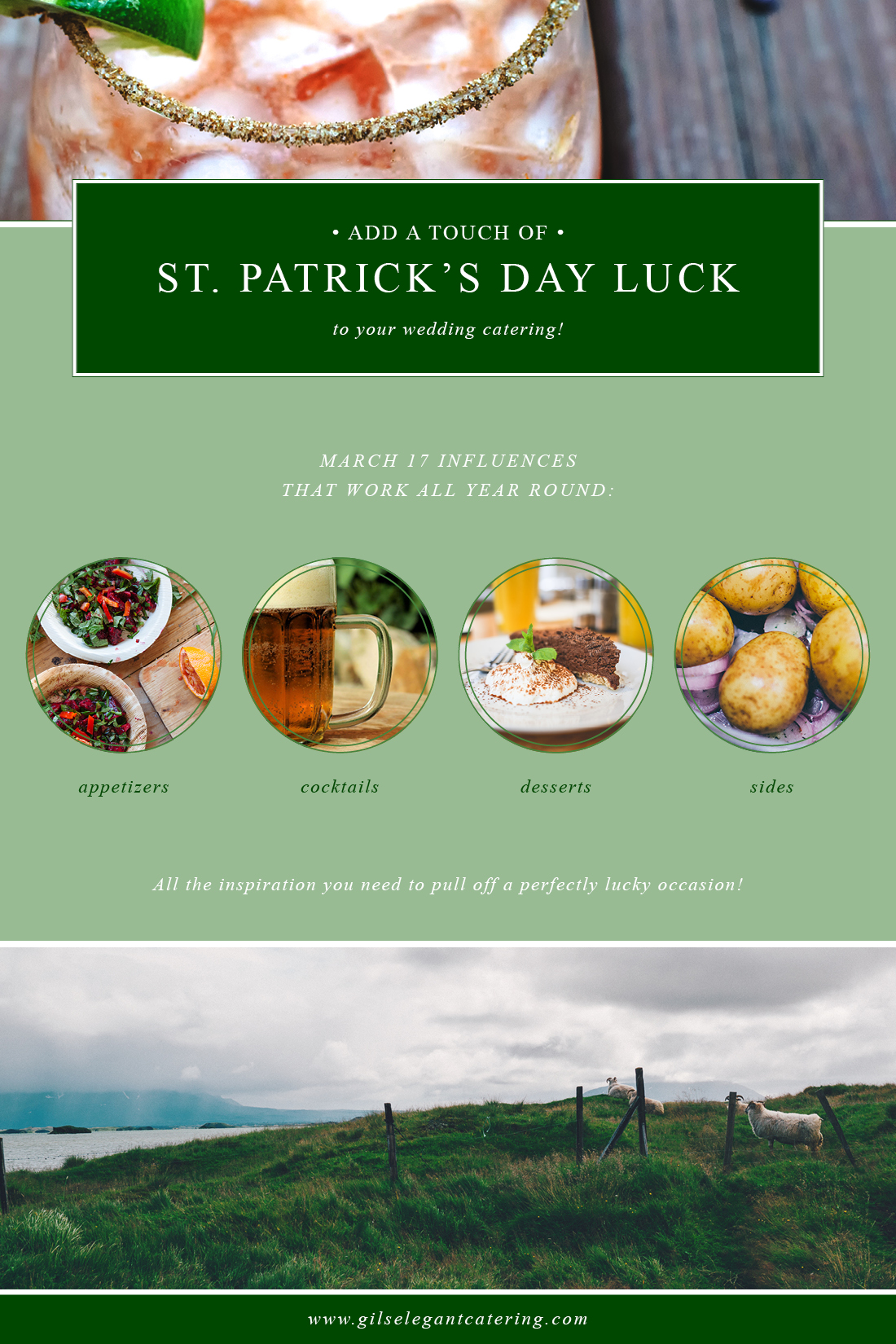 Green Appetizers: You can serve a bit of green without going overboard on an Irish theme. Our smoked pistachio mousse canapes or seasonal avocados make for mouth watering morsels before dinner is served. A hint of green color brings the luck o' the Irish to your wedding without going over the top.
Irish Cocktails: It's no secret that cocktails are a crucial component to any Irish festivity. Take a note from the pros while you're deciding on your own signature cocktail and select an Irish-inspired drink for your guests to enjoy. If you're sticking to beer and wine, consider offering the Irish classic Guinness as your specialty beer. Whether you serve up something gold or green, or a cocktail using traditional Irish whiskey, the inspiration is endless when it comes to St. Patrick's Day cocktails.
Dessert: You can even take a note from the bar when you serve dessert! Put your own spin on the dessert table selection with chocolate cakes infused with Irish cream liqueur. From delectable bundt cakes to creamy cheesecakes, your table will be stocked with mouth watering treats.
Potatoes: What would a St. Patrick's Day meal be without our favorite Irish food? Potatoes are certainly a staple, today and throughout the year. Our menu of delicious sides includes everything from rosemary roasted new potatoes to whipped yukon mashed potatoes—and they're always a hit with guests.
We hope you'll add some extra luck to your wedding day with one of our St. Patrick's Day inspired trends… but no matter what you serve, we're certain luck will be with you as you walk down the aisle. Our Dallas wedding catering company would love to serve you and your guests, so please contact us if we can assist you. Have a happy St. Patrick's Day!