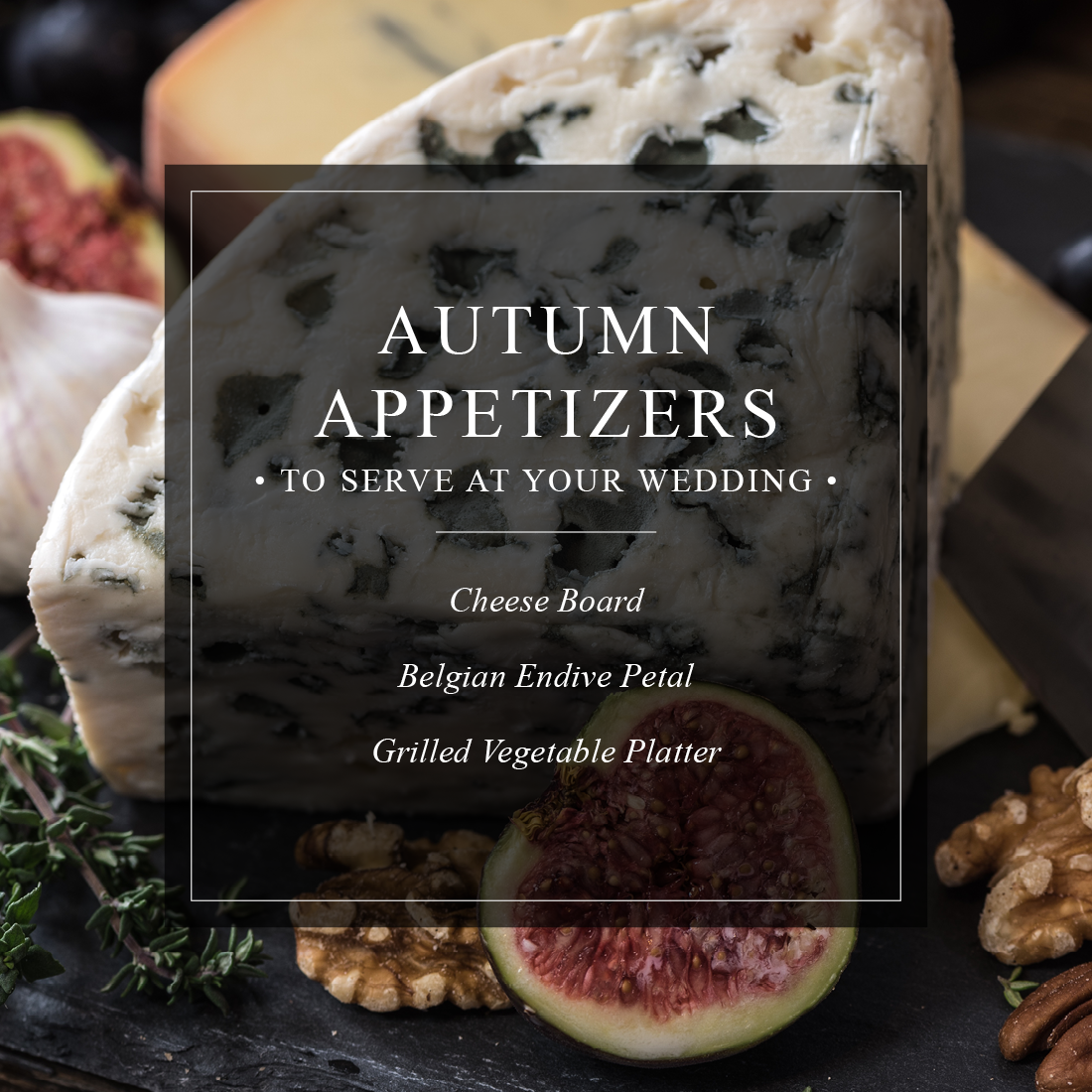 We're welcoming cooler temperatures and a change in color as we usher in the fall season. As a full service Dallas wedding caterer, we love autumn for its distinctive flavors. The crisp weather and ripened gardens lend themselves to robust menus, packed with savory bites. If you're planning a fall wedding, rely on seasonal vegetables, hearty soups, and family-style comfort food to make your autumn menu a smashing success! Today we've rounded up a few of our favorite suggestions for autumn appetizers:
Cheese board: something about a classic charcuterie board perfectly captures autumn weather. Flavorful cheeses and dried fruits hit the perfect combination of savory and sweet. Guests gather around this display to nibble on delicious bites and mingle together, making your cheese board a perfect choice for the fall season.
Our passed canapes make for a delightful seasonal treat. Try a Belgian Endive Petal, complemented by Danish Blue Cheese and a delicious Caramelized Bosc Pear Chutney. Artfully crafted to nuance the best flavors of the season, this is an excellent choice to wow guests with flavor and presentation.
Our grilled vegetable platter is another top-notch selection for the fall season! With asparagus, zucchini, squash, portobello mushroom, baby carrots, and more, this appetizer is bursting with garden-fresh flavor and makes an impactful display at your venue.
You can't go wrong with any of these three autumn appetizers! These tried-and-true favorites are known for their outstanding quality and presentation—hallmarks of our services here at Gils Elegant Catering. If you're still looking for a full service Dallas wedding caterer, feel free to get in touch. We'd be happy to whip up these delicious fall appetizers on your big day, or to craft a custom menu for any season!