Have you ever been to a wedding where the event flow bottlenecked around the food? Oftentimes, hungry guests make a beeline for the appetizers or buffet as soon as they enter the reception venue, resulting in stagnant event flow. How can you avoid stopped up lines of impatient guests? As the top wedding caterer Dallas has to offer, we've seen it all! Our experience has given us insight on how to avoid crowding at wedding receptions. It's easy to keep guests entertained and moving throughout the venue with a little bit of prior planning. There are four simple ways to prevent bottlenecking around the food. Take a look and see which method could be right for your reception!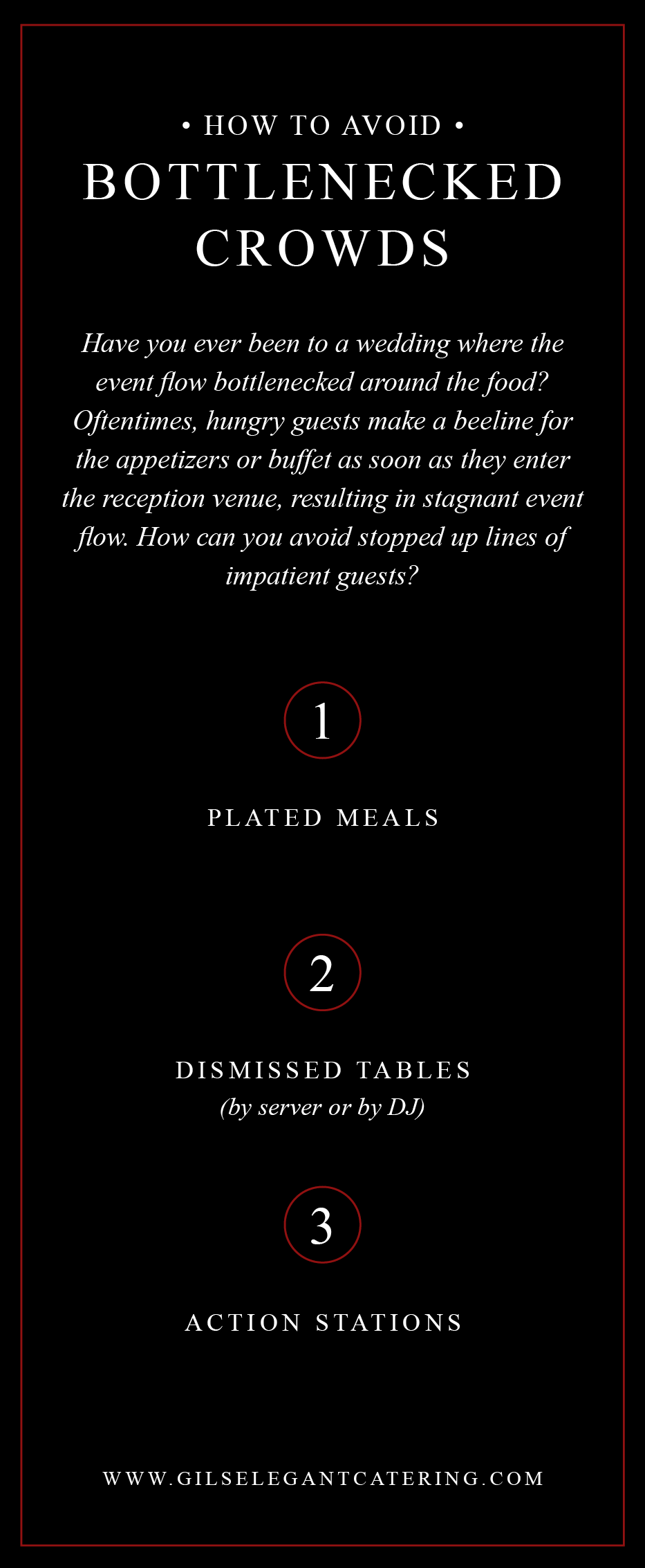 The first option is to serve plated meals. This is always a surefire plan against crowding; since guests are already seated, nobody will be blocking high-traffic areas. Top-notch servers can make sure guests receive their meals at approximately the same time so nobody gets antsy. Plated dinners are elegant and make big impact; plus, they help facilitate event flow. However, a formal plated meal is not in the cards for every couple. If you're seeking a more relaxed approach, or want to stretch your budget, a plated meal might not be the best fit for you.
Buffets are an excellent option for serving a large number of people and creating a relaxed atmosphere. However, the worst-case scenario when it comes to event flow is an overcrowded buffet. You'll definitely want to go into the reception with a game plan to avoid this! One option: have servers dismiss guests by table to the buffet line. Professional servers are experts at politely dismissing tables one by one. They will discreetly appear at each table and inform guests of their opportunity to join the buffet line. This is an excellent option to keep the event flowing well; you'll easily avoid stagnant lines and impatient guests.
Another option for buffet lines is to have a DJ emcee table dismissal. He or she can call tables by number, and keep the crowd entertained in between table dismissals. For a fun twist, think of entertaining ways to divide guests. Perhaps the DJ will invite everyone who knew the bride when she had braces to get up first. Or maybe he'll ask guests who have birthdays during November to join the buffet line next. Either way, having servers or a DJ dismiss tables cuts down on the time your loved ones spend in line, and encourages table conversation instead of food-centered bottlenecking.
Finally, you can also consider action stations for your reception. There is no better way to get guests up and moving! Multiple action stations encourage event flow from station to station, and let guests try a variety of delectable foods. Your friends and family are more likely to mingle as they move throughout the venue. This approach works well with open or assigned seating. Our only caution: be sure you have enough stations! You wouldn't want to run into the same bottlenecking issue due to inadequate number of stations. Need assistance estimating how many stations you will need? As the top wedding caterer Dallas has to offer, we are more than happy to help. Guests always love seeing the unique dishes served throughout the venue!
Any of these serving routes can be a great option for your reception. As long as you have a plan for event flow, you'll be in good shape on the big day. Of course, working with experienced caterers always helps! The top wedding caterer Dallas is happy to assist with event flow during your reception; our professional team has ample experience to get the job done. Keep your guests happy with any of these serving options and your event will be a guaranteed success!