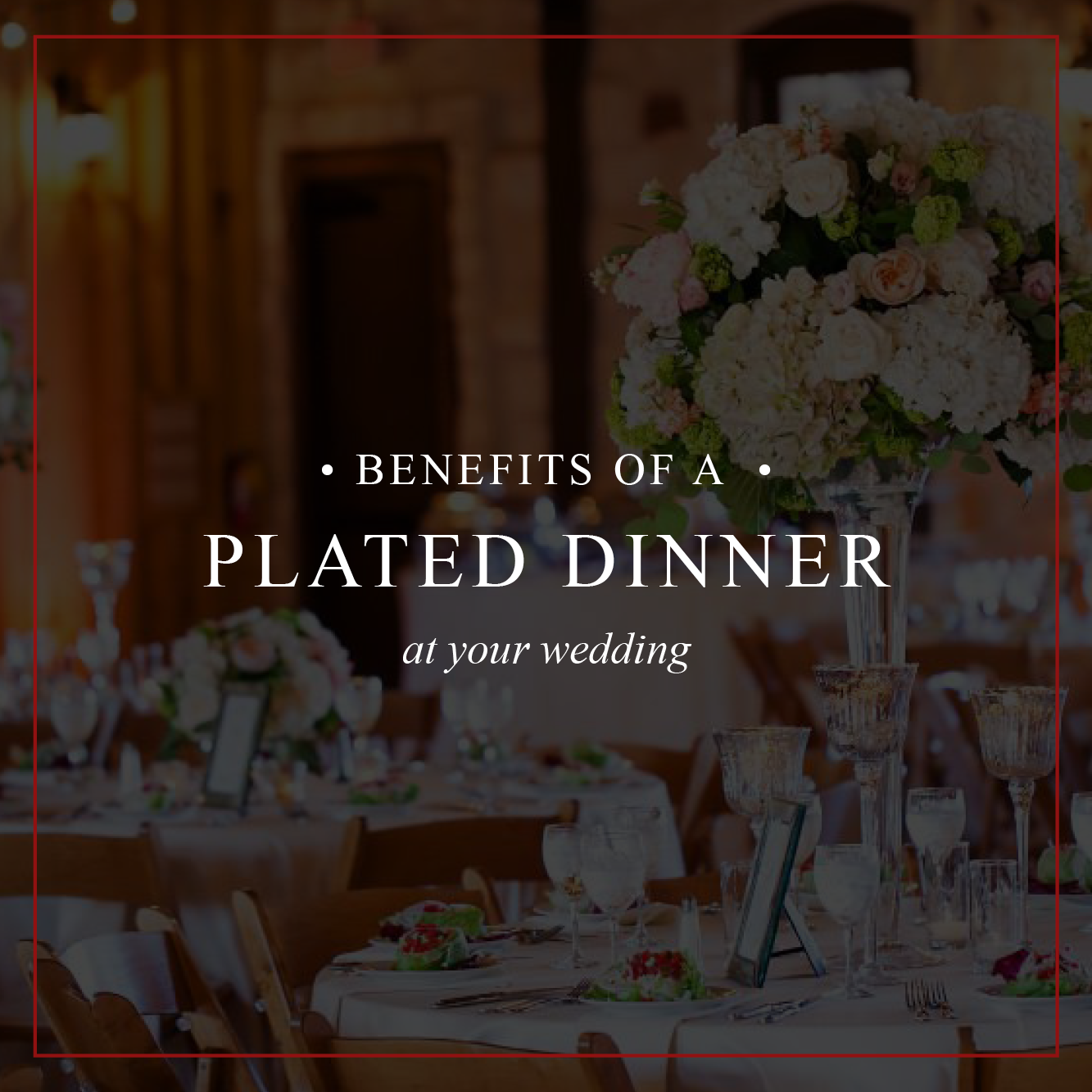 On the fence about a plated meal, versus a buffet-style dinner? Each serving style has its pros and cons, but our expert team of Dallas wedding caterers has seen it all! Either option can be an excellent choice—and we'll always bring delectable food and impeccable service, no matter which route you choose. But to inform your decision, we've collected a few benefits of serving a plated dinner. Take a moment to review our list before you make a final decision:
Formal feel: of course, a major benefit of a plated dinner is the formal tone it sets for the rest of the evening. As the most traditional serving style, it automatically evokes timeless elegance and a formal atmosphere. If you love the idea of a classic wedding, a plated dinner is definitely the way to go!
Everyone gets their meal at the same time: another important benefit of a plated dinner is the serving time. Seated guests will enjoy conversation until meals are placed before them—at the same time. Unfortunately, even a streamlined buffet will still require a line—meaning guests will serve food, sit down, eat, and finish their meal at different times.
No crowd bottlenecking: on the same note, a plated dinner will help avoid bottlenecking in your event space. Instead of crowding near a buffet area, guests will remain seated. For this reason, a plated dinner is the ideal choice for a small venue, or a venue with a lot of guests.
Schedule flow: the courses of a plated dinner allow a more structured timeline. Schedule toasts or even first dances between salad and entrée, to keep the event flow moving along throughout the evening. Plus, stay on track with an accurate timeline—as opposed to a buffet, which may require a bit more wiggle room as people serve themselves.
Stay tuned next month for a different perspective! We'll highlight the benefits of a buffet dinner, so you can make an informed decision on which serving style is best for your special day. In the meantime, take a look at our menus and get in touch with our team of Dallas wedding caterers. We would be happy to answer any questions, and would love to provide an incredible menu for your special day.