We're always so excited to usher in December… good tidings, colder weather (well, maybe not too chilly here in Texas), and Christmas cheer all around. But the truth is that the holidays can also get a bit stressful. With the arrival of long-awaited relatives comes the challenge of preparing meals and activities for family and friends, and it can seem a little daunting at first. Luckily, we've been in the business of entertaining and feeding big crowds for quite awhile; we've found that a few quick tricks to planning ahead can make any holiday event run more smoothly.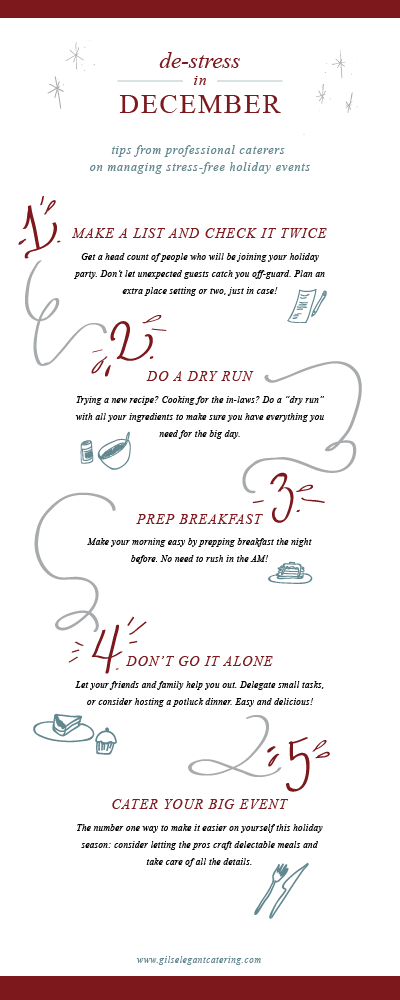 Got a big crowd coming in? Make a list of everyone who will be joining you so you have a head count for meals. Just to be safe, add two people to the master list—just in case Aunt Mary brings that coworker she's been talking about or Cousin Matt walks in the door with his new girlfriend. Planning for a couple extra place settings will keep you looking (and feeling!) prepared.
Trying a new recipe? Hosting the in-laws for the first time? Think about doing a "dry run" a few days before. Set out all the ingredients, and go through each recipe without actually mixing all the items together. This will ensure you have all the ingredients and tools you need on the big day—and will ensure peace of mind leading up to it!
If your relatives will be staying overnight, do yourself a favor by prepping breakfast the night before. Add everything but the eggs and milk to your breakfast casserole dish in the evening… then, in the morning, all you have to do is add the last two ingredients before popping the dish in the oven. Pancake and waffle mix can easily be refrigerated overnight, then poured fresh in the morning. Cut any breakfast fruit beforehand, and have the coffeemaker set to start on time for any early risers.
Don't go it alone! Your relatives and friends are eager to help in the kitchen. Consider setting aside some cooking tasks in case a guest asks how they can help. Giving the guest a part to play in the meal preparation makes you a gracious host, and you can rest assured smaller tasks are getting done. Or (even better), poll the relatives before the big event to see who can participate in a potluck dinner. Planning the meal gets much easier when you're only responsible for the entree!
The number one thing you can do to relieve holiday stress? Decide which meal is the biggest event, and consider having it catered! A holiday party with all the food completely provided allows you and your guests to relax and enjoy the big day. Whether hosting a formal holiday soiree, or a casual family gathering, Gil's is experienced in crafting meals your guests will love. We'll take care of all the details, and you won't have to worry about a thing! Just contact us here to get started.
Happy December! Enjoy your holiday festivities—may this winter season be merry and stress-free.