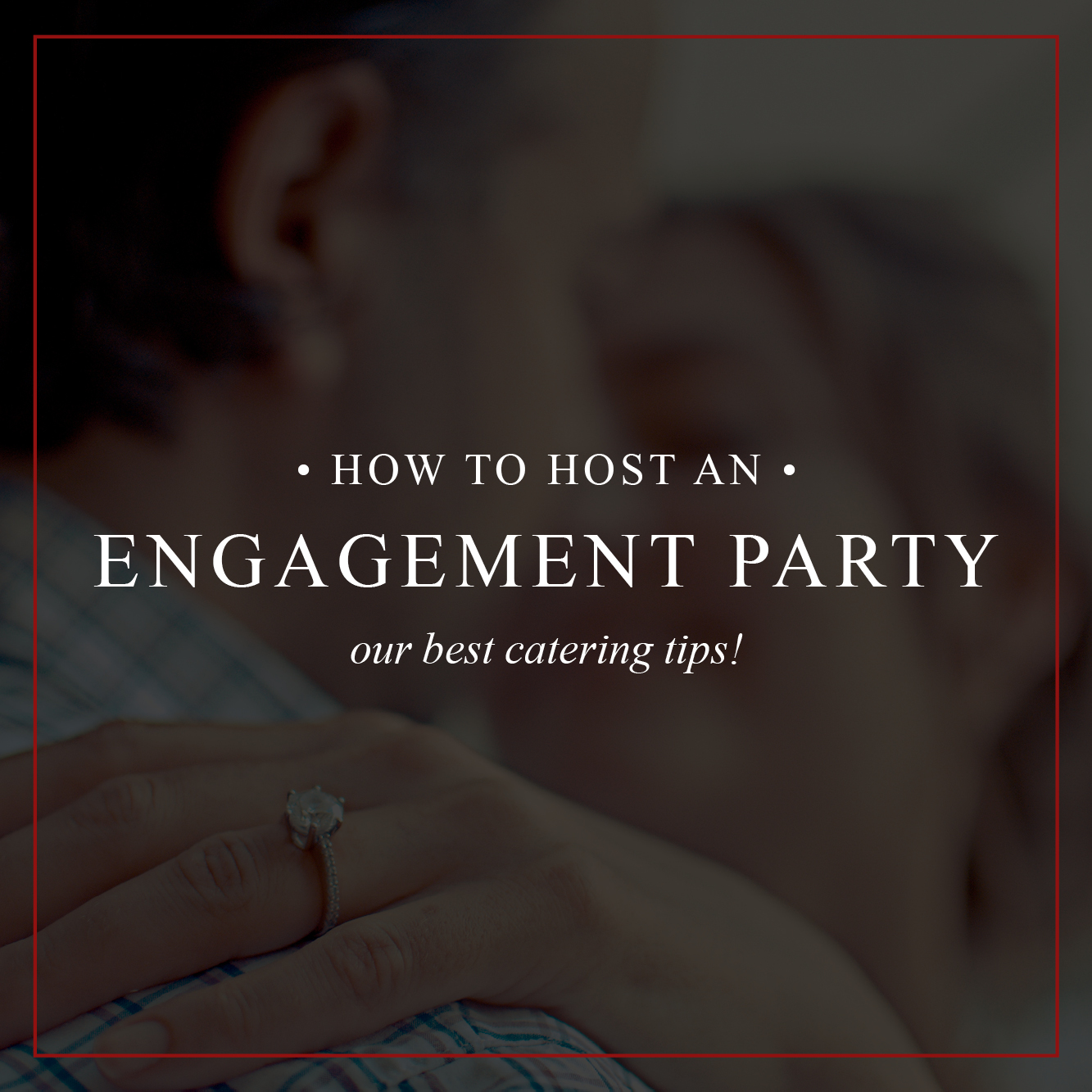 It's that time of year! Engagement season is here, bringing with it sweet proposal stories, happy couples, and stunning new bling. Don't be surprised if several of your friends pop the question (or say "yes!") between now and February! Statistically, it's the most popular time of year to get engaged—with over 40% of the year's total proposals occurring from Thanksgiving to Valentine's Day.
If you have a few lucky friends or family members sporting gorgeous new sparkler, you might be thinking about hosting an engagement party to celebrate your loved one's big milestone. Traditionally hosted by the parents of the bride and/or groom, modern engagement parties can now be hosted by any friend or family member who wishes to entertain! If you're hosting an engagement party this season, we've got you covered with our best catering tips:
Plan for gifts: even if the happy couple is not expecting gifts, some guests may show up with presents in hand. Plan an easy-access drop spot near the entrance where you can conveniently deposit gifts. A decorative basket works well for collecting envelopes!
Avoid bar backup: If you're serving drinks, plan ahead. You don't want guests to bottleneck near the bar area. Ask a few helpers to assist you with pouring drinks to keep people moving—and to avoid having any guests over-serve themselves.
Plan 2–3 appetizer "stations." Engagement parties often bring together a bunch of people who are meeting for the first time. Use your appetizers to facilitate conversation and movement. Instead of just one hors d'oeuvres table, set up 2–3 appetizer "stations" brimming with delicious bites. Guests will be more inclined to wander from one table to the next, meeting people along the way.
Or… let us handle it! The easiest way to eliminate stress? Allow Gil's to handle all the catering details. We promise to bring our most delectable flavors, beautifully displayed at your event. You can sit back and enjoy hostessing: welcoming guests, introducing loved ones, and raising a toast to the happy couple. We'll take care of all the catering details, so you can impress your guests and enjoy the party stress-free.
With just a few of our best catering tips, you're ready to host the perfect engagement party. Your bride-to-be friend will be honored by your hosting gesture! If we can assist in any way, please don't hesitate to call. We'd love to be a part of your celebration.