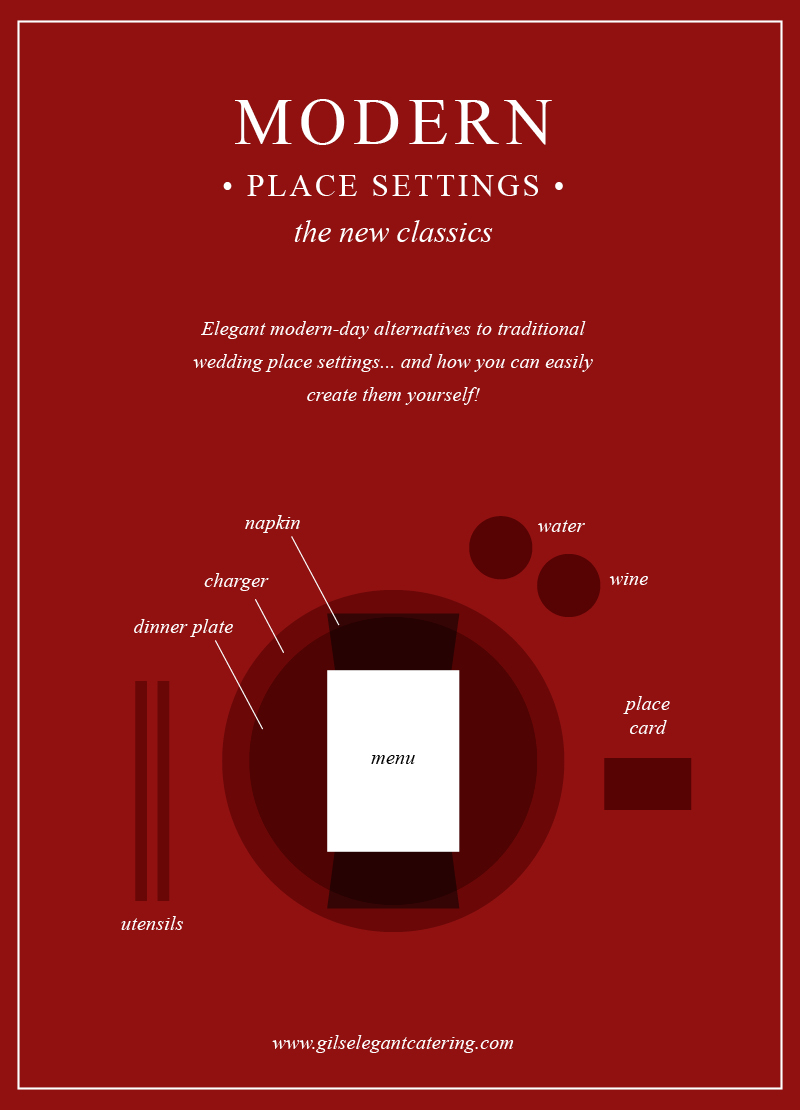 There will always be a place at our table for traditional formal place settings—fine china, dainty fish forks, and pretty glasses all in a row. Something about layered plates and multiple utensils just feels luxurious, evoking a sophisticated feel that heightens the drama of a ceremonious occasion. As a DFW caterer, we believe the classic elegance of the formal place setting will never fade, but the modern era has brought us a few "new classics" when it comes to place settings. These place settings are widely accepted as elegant alternatives to the full-service traditional settings of a bygone era.
Luckily, putting together elegant place settings is easy if you stick to a few rules of thumb. Take a look these staple place setting components, and create a sophisticated atmosphere at your table with these modern classics:
Start with a traditional base: a dinner plate on top of a charger. You can make the chargers as personalized and unique as you'd like; we've seen everything from beaded glass to tree-stump cross sections. Talk to your wedding caterer about memorable charger ideas if you're not sure how to personalize!
Drinks will still go to the top right, even in a modern place setting. The water goblet will reside closest to the plate, with any wine or beer glasses to the right of it. However, since many couples opt to serve drinks prior to the seated meal, you can allow guests to bring their cocktail to the table instead of placing the wine glasses above their plate.
Flatware is where you start to see opportunity for a modern twist. In traditional formal settings, forks belong on the left, in order of use; fish and salad forks are farther to the left than the larger dinner fork. On the right are knives and spoons, with dessert utensils placed above the plate at the top of the setting. Modern classics have a much looser definition of flatware rules. Most place settings nowadays do without all the "extra" cutlery, narrowing the utensils down to just a fork, knife, and spoon. If all three are placed aside the plate, it is still proper to keep them in classic form: fork on the left, knife on the right (blade facing in toward the plate), spoon to the right of the knife. However, modern settings allow a few twists; it is now common to gather all three utensils atop the plate, tied with a pretty ribbon. We also see all three utensils gathered into an elegantly folded napkin, placed in the center of the plate. Most couples make do without dessert utensils, opting instead to serve dessert forks or spoons along with the dessert itself.
The napkin is another opportunity for creativity. The new classic look is to fold the napkin lengthwise in between the charger and the plate, adding a nice layer of texture to the setting. However, we also see napkins intricately folded as utensil-holders, twisted inside a napkin ring on top of the plate, or simply folded to the left side of the setting. You have lots of options when it comes to incorporating napkins into a modern classic place setting.
Menu: a staple in the modern classic place setting! Traditional tablescapes often do without a menu; however, menus have become incredibly popular components of wedding place settings. Menus are highly customizable to suit your wedding theme, and make a personalized statement at every place setting. After all, you've worked with your DFW caterer to craft a one-of-a-kind menu; highlight your choices with a printed Talk to your wedding suite designer about incorporating a custom paper menu, placed on top of your dinner plate or to the right side of the setting.
Place Cards have often been included traditionally, but they have seen a major revival in the past few years. With the returned popularity of calligraphy, hand-lettering artists are writing on just about anything to bring unique character to every place setting. We've seen names lettered on everything from colorful geodes to cacti and classic paper. This is a key area for adding a personal touch to the modern classic setting.
And there you have it! In just six steps, you can craft a modern classic place setting of your own. Build on a traditional base, and then add personalized twists to bring your tablescape up to date with a dose of personality. However you decide to design your place settings, make sure you let your wedding caterer know how you'd like the food served. We love seeing pops of personality at every wedding venue; let us know beforehand how we can best utilize your design choices to serve elegant meals that complement your event décor. As your DFW caterer, we'd be happy to serve a custom menu just for you!