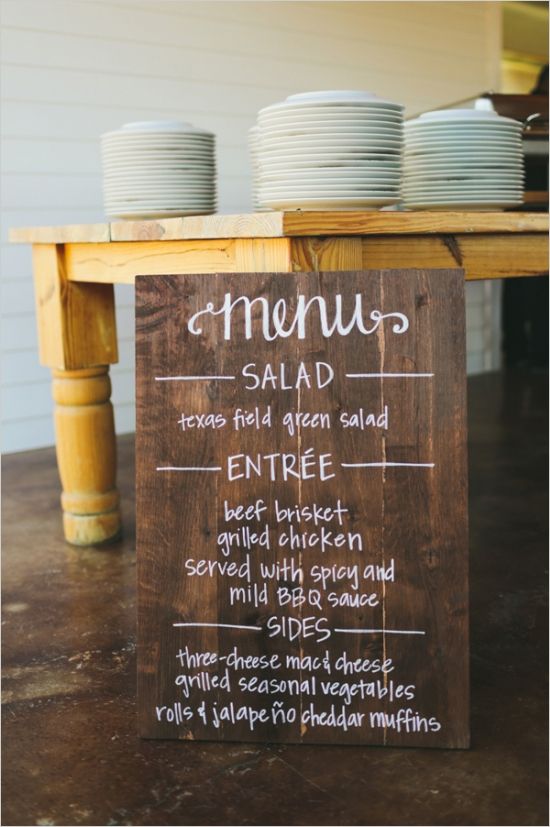 DFW Caterer
We can all agree that food is important at any event, but especially at weddings! Whether you are having a full menu, a buffet, or hors d'oeuvres style, you should have some type of menu to show guests what their options are. There are so many unique choices for this now, and we wanted to highlight a few of them for you.
If you are using large greenery pieces, like elephant ears, consider having a calligrapher paint your menu onto a couple and have them near the buffet or scattered around the tables.
If you wedding is on the more rustic side, look into getting a large pallet and painting the menu onto this. The breaks in the wood will make it incredibly readable, and it will be large enough to see further back into the buffet line.
You can also go for a chic choice of a mirror menu. For this, you can either choose a large mirror or multiple small, vintage vanity mirrors. The extra fun part about this choice is that you can wipe off the menu afterwards and use the mirror in your home!
For a more simplistic approach, you can use a scroll or banner for your menu. Have a calligrapher write the menu out, and hang it up on the nearest wall to the food.
If you like the look of wood, but don't want something as rustic as a wooden sign or pallet, you can always go for a cutting board or cheese board. Using a plate stand to stand it up will make it an easy piece to add to any table.
Whatever menu you choose, we would love to be your DFW caterer and have our food featured on your menu. Don't hesitate to contact us about any wedding catering needs that you might have.