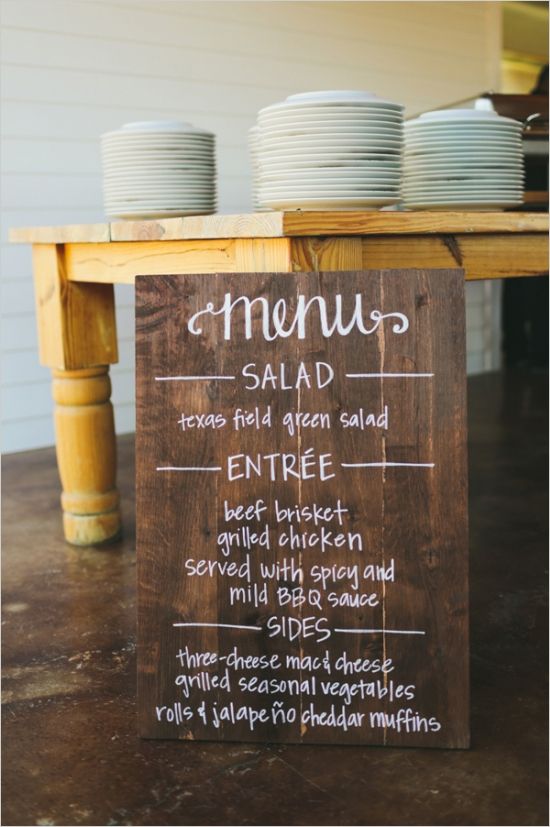 photo credit: http://www.weddingchicks.com/blog/lace-and-burlap-wedding-at-the-white-oaks-ranch-l-9911-l-43.html
This month we're discussing some wedding menu inspiration. It takes your untiring and diligent efforts into making the arrangements for your picture perfect wedding to make sure everything is as immaculate, prime and pristine as it can get! – From the dresses to the themes to the venue to the wedding planner to the invitation cards to the menu!
Gosh.
While putting in a lot of effort in choosing the menu items, why not flaunt the menu in the most intriguing, unconventional and spellbinding way to leave the guests in an awe and watery mouth by only looking at the menu listing. It's being said that half your job is done once a thing is beautiful to look at.
Mirror Menu:
Get a medium sized mirror in an intricate wooden frame, using a mirror safe pen dash off the menu in your own handwriting either listing them all at once or writing them under headers. You can get them in numbers according to the scale of your wedding event and hang them randomly around the venue as well as near the serving tables.
Window Menu:
Old used windows are easily available at flea markets or old furniture markets. Snag one that fits your requirements according to the wedding theme or buy any one to revamp it by painting or putting up embellishments and glitters or fresh flowers even.
Surfboard Menu:
If the adventure in you makes you want to plan a beach wedding, why not think out of the box and use a surfboard to scribble the menu down or ask a painter friend to paint the menu on it and mount it on the entrance of the venue.
Wood Slice:
Making use of a table top easel or a stand, get the dinner details printed on a wood slice for a very rustic and countryside feel to it.
Wooden Serving Boards:
Wooden serving boards clipped with the paper menu, with multiple pages giving it more of an rustic paper look, stands it out in the world of ideas for menu displays on the extravagant theme weddings that are carried out these days.
If you know anything about wedding planning, it's all about details and more details. The more personal touch you add to details it is more likely to be loved and appreciated. Extravagant, lavish, dreamy, fancy, exemplary your wedding should be remembered as.