Best Dallas Wedding Catering | Gil's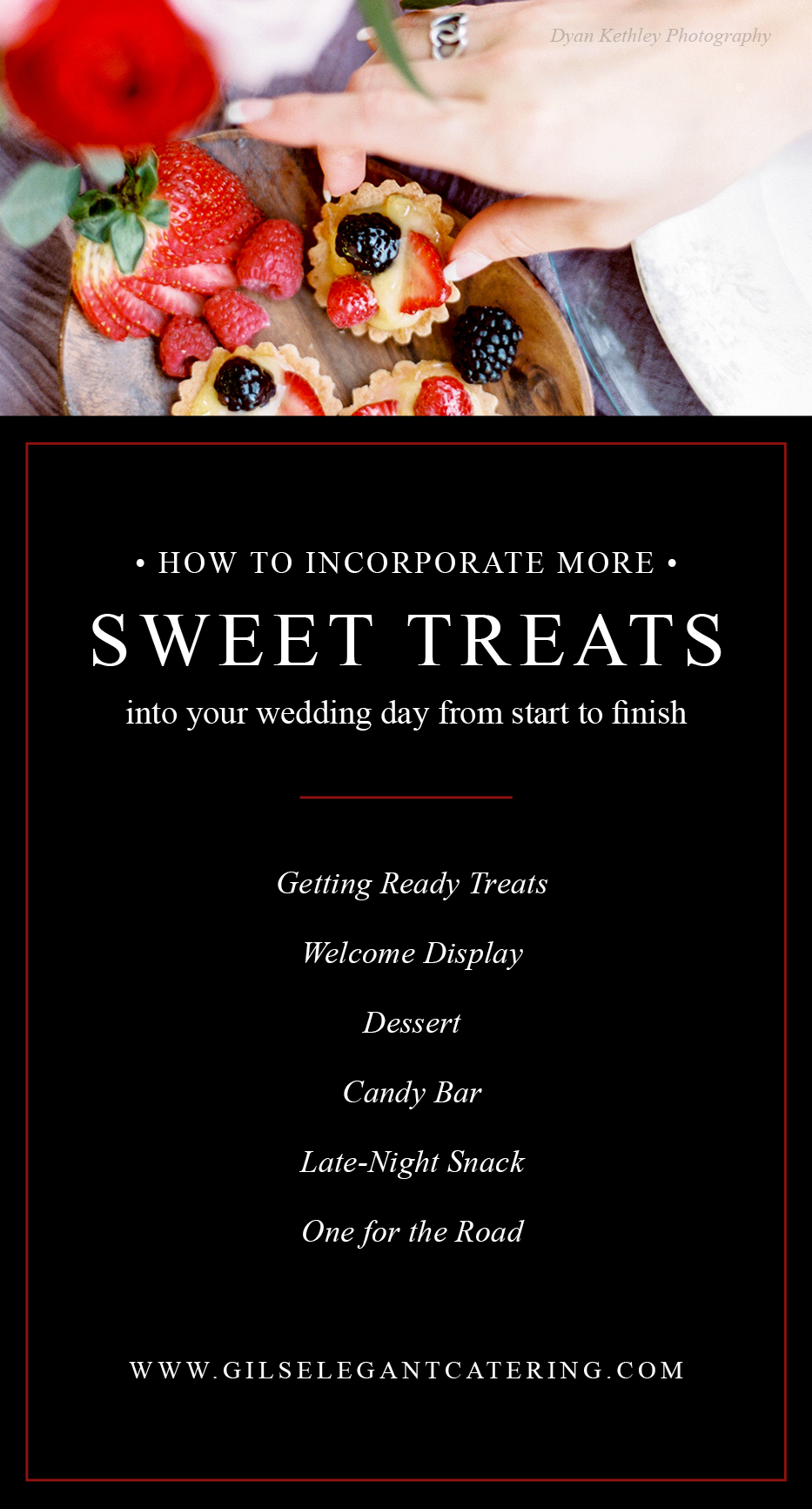 Boo! Feeling scared yet? We're loving this spooktacular time of year—from creative costumes to creepy decorations, there's nothing quite like Halloween night. We can't get enough of October's scary movies, good-natured tricks, and (of course!) delicious sweet treats. While we most likely won't be donning costumes or spooking our neighbors year-round, there's no reason that tasty treats should be limited to Halloween. Why not take a note from this week's eerie holiday, and incorporate more treats into your events year-round?
We love to see how couples incorporate scrumptious desserts into their big day. We whole-heartedly believe your wedding day should be accompanied by delectable desserts from start to finish. If you've got a Halloween-worthy sweet tooth, you won't want to miss these ideas for a wedding day brimming with treats:
Getting ready: cherish this time with your bridesmaids as you build anticipation for your big moment on the aisle. Pour a glass of champagne (not too many!), served with delicate breakfast sweets: fruit tarts, coffee cake, and croissants. Colorful macarons also make a scrumptious (and picture-perfect) addition to the bridal suite!
Welcome display: hooray! You've tied the knot and headed to the reception. Welcome guests to your celebration with a sweet treat welcome display. Whether you create the ever-popular donut wall, or stack tiered cake plates with our Mini French Pastries… use this opportunity to create a wow-worthy display that is as delicious as it is visually impressive.
Dessert: what would a wedding be without dessert? Once the entrée plates have been cleared, serve up something special. You may opt for a traditional cake, personalized to your dream wedding vision. Or, put a spin on classic desserts with a cupcake station or cheesecake lollipops.
Candy Bar: give guests a real Halloween-worthy treat—a custom candy bar! Use candies in any color to craft a polished display your guests will love. Use personalized candy bags to send guests home with a sweet treat (and you can check wedding favors off your list!).
Late-Night Snack: one of our favorite traditions here at Gil's, a late-night snack is always a welcome surprise. Serve up late-night s'mores, cookies and milk, or hot chocolate to end the night on a sweet note.
One for the Road: don't forget to save a sweet treat for yourself! Ask your planner (or maid of honor) to pack a few goodies for you and your sweetheart to enjoy as you jet off in your getaway car.
With this list in mind, your special day will be sweet from start to finish. Guests will love the personalized touches and delectable dishes—and you'll have an excuse to nibble on sweet treats all day long, without even having to trick-or-treat. We hope you enjoy an eerie, fun-packed Halloween night… filled with far more treats than tricks! Happy Halloween!
Our team is honored to offer the best Dallas wedding catering services, perfected over three decades of service. We'd love to chat about your dream wedding menu, so give us a call!