This weeks Weekly Recipe Wrester was inspired by a lovely gal named Sally. I have never met Sally, and sadly will not meet her. I stumbled upon this recipe so naturally, via Pinterest! Ha-I am so in love with Pinterest that I could pin in my sleep. On this glorious site I found this totally delicious and healthy looking muffin. I clicked and was directed to a blog called Sally's Baking Addition. Oh man, she's one addict that may or may not need help 😉
After several hours of my mouth watering and hoping to taste this treat I decided that I simply couldn't wait any longer and had to have it now!!!! Upon completion of  this recipe, I took my first bite and it was  magnificent! Not to mention my whole house smelled like heaven with all of the baked apples and cinnamon flavors floating throughout the air.
(I made a few tweaks so I wouldn't be stealing it all from Sally, but I think I found a new best friend-these muffins!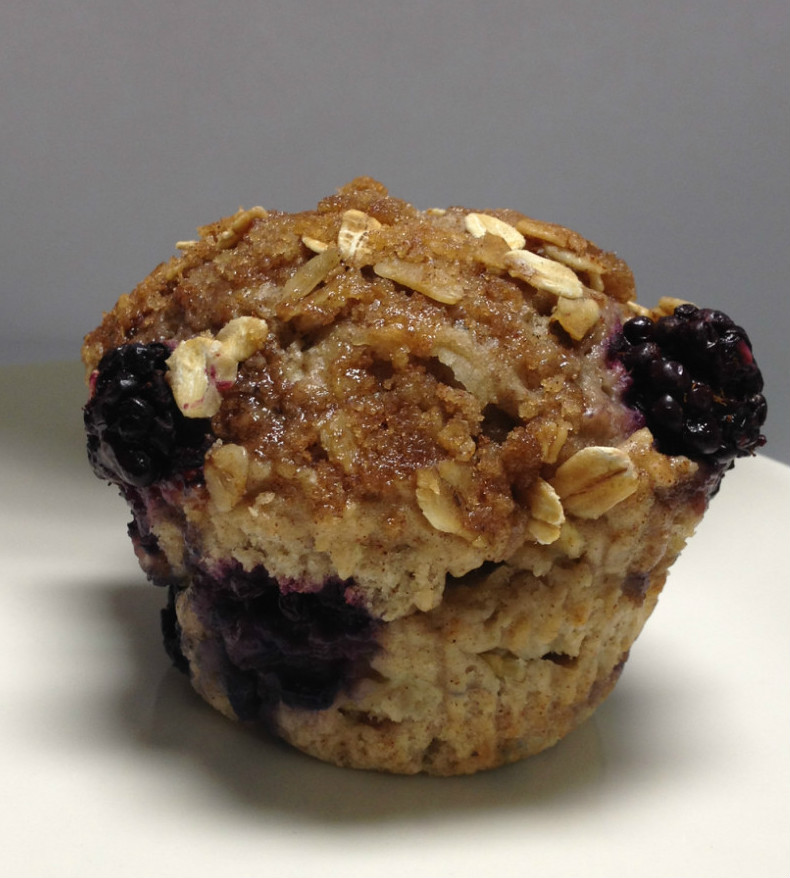 Ingredients:
Muffins
3 cups flour (any type will do)
1 Tablespoon ground cinnamon 

3 and 1/2 teaspoons baking powder
1/8 teaspoon baking soda
1/2 teaspoon salt
1 very large apple, peeled and diced into small pieces (Honeycrisp-still baking with my 28 lb batch)
1/2 cup brown sugar (dark or light brown)
1/2 cup yogurt (I used a blackberry Greek yogurt)
1/2 cup unsweetened applesauce (or vegetable oil)
1/4 cup pure maple syrup –> You may use 1/4 cup more brown sugar instead of maple syrup.
2 large eggs
2 teaspoons vanilla extract
1 cup  milk (any milk you prefer)
1 pint (about 1 cup) fresh or frozen blackberries, chopped
Oat Streusel
3 Tablespoons brown sugar (dark-or light brown)
3 Tablespoons old-fashioned rolled oats
1/2 teaspoon ground cinnamon
Directions:
Preheat oven to 425F degrees. Spray 12-count muffin pan with nonstick spray. Set aside. (I used baking cups-but it is your preference)
Making the muffins: 
Combine the flour, cinnamon, baking powder, baking soda, salt, and chopped apples together in a large bowl until evenly combined. Set aside.
In a medium bowl, whisk the brown sugar, yogurt, (applesauce or oil), maple syrup, eggs, vanilla, and milk together vigorously until combined and smooth.  Pour the wet ingredients into the dry ingredients and gently stir with a large spoon or rubber spatula until combined. Do not overmix the batter.
-it is okay if you put all of the ingredients in one big bowl and mix-I have done it both ways and both taste the same 🙂
Making the streusel:
Combine the brown sugar, oats, and cinnamon together in a small bowl.  Set aside. Layer 1 Tablespoon of batter into each muffin tin.  Top with a couple chopped blackberry pieces, then layer with more muffin batter and a couple more blackberry pieces until you've filled the muffin cups all the way to the top. Sprinkle each with streusel.
Bake the muffins at 425F for 5 minutes. Keeping the muffins inside the oven, turn the temperature down to 375F and bake for another 15-16 minutes or until a toothpick inserted into the center of the muffin comes out clean.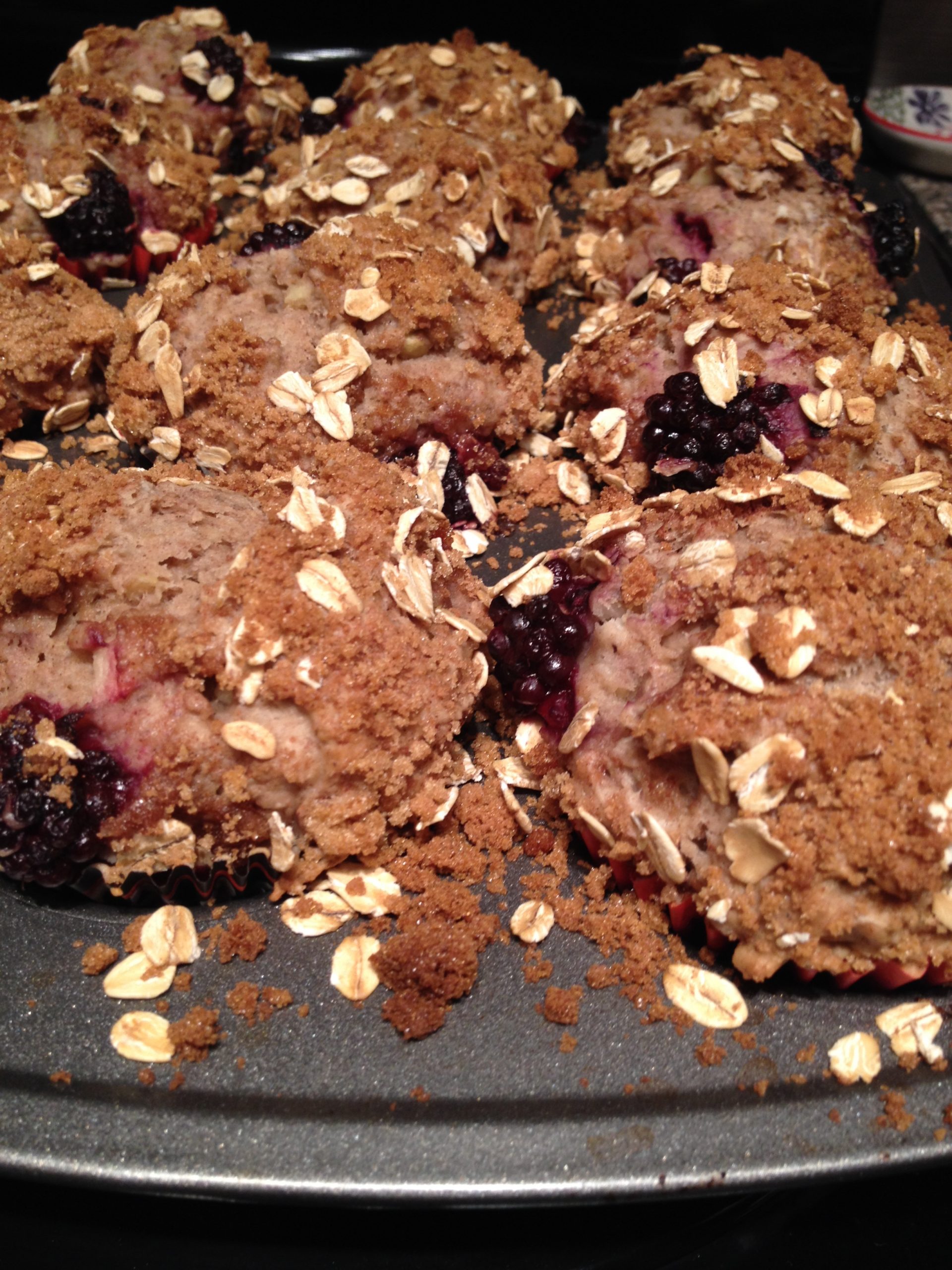 I used all of my streusel and literally plopped it onto each muffin making them as full of the: brown sugar, cinnamon and oat concoction!
Bon Appétit