Each week I have decided to challenge myself on creating an unique delicious dish. This week was my first attempt at "wrestling" and conquering a dish that is more intricate that tossing some seasoned chicken into the oven. For my first challenge I selected a bacon wrapped spinach stuffed chicken. This chicken is simple to make and delectable. Seriously, all of the men in your life will fall in love with you. If you already have a man, then he will drop down on one knee and propose! If you're already engaged, Gil's Elegant Catering would love to make this bacon wrapped chicken delight for your special day!
Like my mother always said, "The way to a mans heart is through his stomach."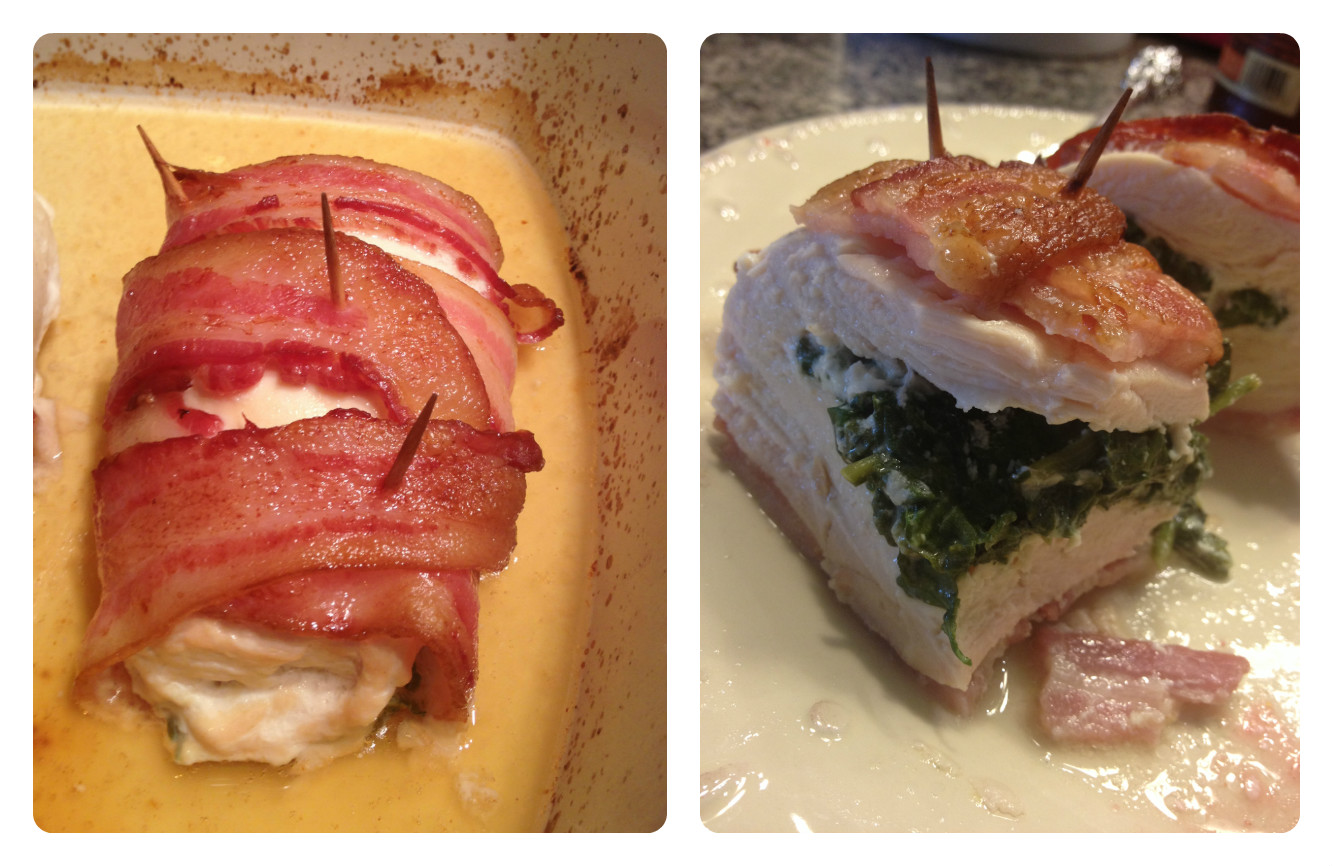 If you want to make this yourself here is the recipe that I used with some additional tips of advice.
Prep Time: 15 Minutes. Cook Time: 45 Minutes. Total: 1 Hour.
Ingredients
Recipe makes 4 servings
1 (10 ounce) package fresh spinach leaves
1/2 cup sour cream
1/2 cup shredded pepperjack cheese
4 cloves garlic, minced
4 skinless, boneless chicken breast halves – pounded to 1/2 inch thickness
1 pinch ground black pepper
8-12 slices bacon
*Toothpicks
Directions
Preheat the oven to 375 degrees F (190 degrees C).
Place spinach in a large glass bowl, and heat in the microwave for 3 minutes, stirring every minute or so, or until wilted. Stir in sour cream, pepperjack cheese, and garlic.
Lay the chicken breasts out on a clean surface, and spoon some of the spinach mixture onto each one. Roll up chicken to enclose the spinach, then wrap each chicken breast with two-three slices of bacon. Secure with toothpicks, and arrange in a shallow baking dish.
Bake uncovered for 35 minutes in the preheated oven, then increase heat to 500 degrees F (260 degrees C), or use the oven's broiler to cook for an additional 5 to 10 minutes to brown the bacon.
Additional Suggestions:
For extra moist-mouth-watering chicken simply marinate in buttermilk for a few hours before preparing.
Bacon Lovers: Put more bacon on your chicken 🙂
Bon Appétit