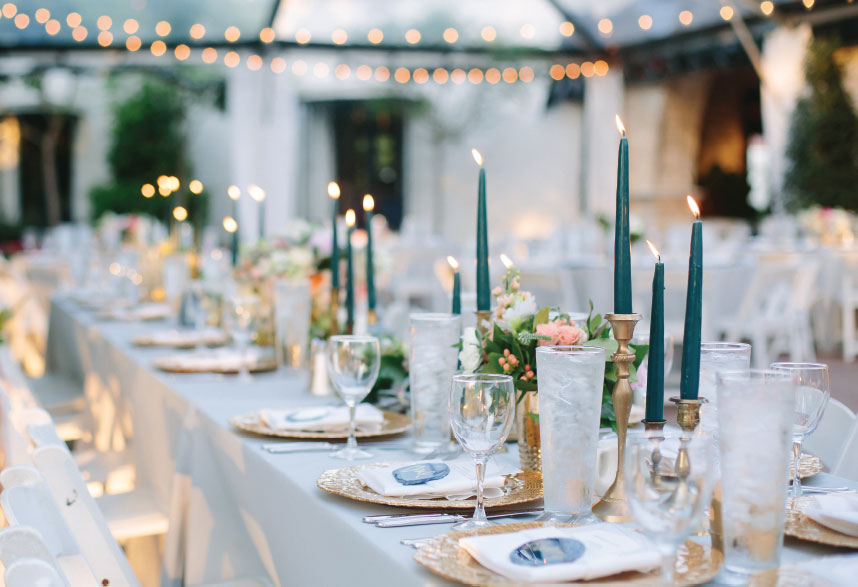 Premier Dallas Caterer
There are all sorts of options for dinner at your event. Gil's, the premier Dallas caterer, believes that going with a plated dinner is one of the best options for serving your guests. We think that a plated dinner adds a very elegant, formal feel to any event. Serving your guests versus having them serve themselves at a buffet will make them feel extra special! And it also allows for a more relaxed dinner. No one will be rushing to get to the front of the buffet line.
Gil's offers an excellent seated dinner menu with a starting salad, tasty entrees, and of course, delicious desserts! We also offer a wide variety of options for each category. Our salad options range from Organic Field Greens to a Southwest Caesar Wedge. Additionally, for our entrees, we offer unique and tasty creations like a Pan Seared Beef Filet with Pinot Essence Demi Glaze. If you're going for a lighter take, our Almond and Herb Crusted Seasonal Line Caught White Fish would be a great choice. And you can't go wrong with any of our dessert options. We don't offer simple choices like chocolate cake. Our desserts are a work of art! Try our Tiramisu-Espresso Scented Mascarpone with Kahlua Crème Anglaise.
With our experience as a premier Dallas caterer, we feel that a plated dinner is one of the best ways to treat your guests. Our unique menu offerings will make them feel extra special. It will also give your event, whether it be a wedding or corporate event, an elegant feel. Since you're serving your guests the same food, you could also save on food cost!
We want to make sure that your special event will leave you and your guests feeling impressed and satisfied – with both the food and the service! As the premier Dallas caterer, we feel that a plated dinner can leave everyone feeling very content with their experience.