Can you believe the holidays are approaching so quickly!? Christmas and New Year's are just around the corner. There's a lot to love about this time of year… from twinkling lights to presents stacked under the tree, magic is in the air during December. We'd like to think Dallas catering and delicious food play a big role in making the holidays so sweet! This Christmas season, don't forget to sample our favorite traditional holiday sweets. Feel free to check this list twice:
Christmas Cookies: every kid loves baking Christmas cookies… and what better way to get in the holiday spirit? Add holiday-themed icing and sprinkles for an afternoon making memories.
Gingerbread: right up there with baking Christmas cookies, decorating gingerbread houses is a delicious and festive activity. Add a bit of competition by making it a challenge! Have friends and family vote on the winning creation.
Chocolate Fudge: a decadent holiday treat, chocolate fudge is a long-time Christmas favorite. Prep a few batches ahead of time to deliver to neighbors as a holiday hostess gift. Tie in a cellophane bag with an oversized bow—voila!
Hot chocolate: the perfect wintertime treat. Pour a steaming mug of hot chocolate as you decorate the tree or watch a favorite Christmas movie. Don't forget the marshmallows!
Christmas feast: roast turkey, mashed potatoes, cranberry sauce… the whole nine yards! If you're feeling ambitious, serve up a traditional Christmas feast guaranteed to impress your guests.
We hope you enjoy these top favorite Christmas flavors. What are some of your own? We love to hear about new traditions and family favorites.
For the holiday hostess, sometimes there's also a bit of stress involved at this time of year. Welcoming friends and family into your home is always rewarding in the end, but the to-do list is seemingly never-ending. We'd like to remind you of holiday hosting tips from last year—guaranteed to help you host Christmas festivities by planning just a few things ahead of schedule: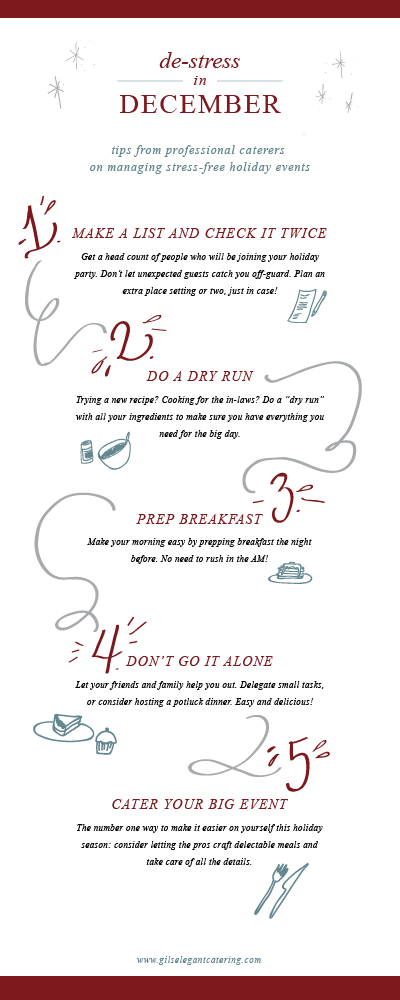 Merry Christmas and Happy New Year from Gil's Elegant Catering! Thanks for making 2016 our best year yet… but 2017 is shaping up to be one for the books as well. We appreciate all our couples and vendors who have supported Gil's over the years. We look forward to serving you with Dallas catering in 2017!