Catering Dallas | Creative Place Card Ideas from Gils Elegant Catering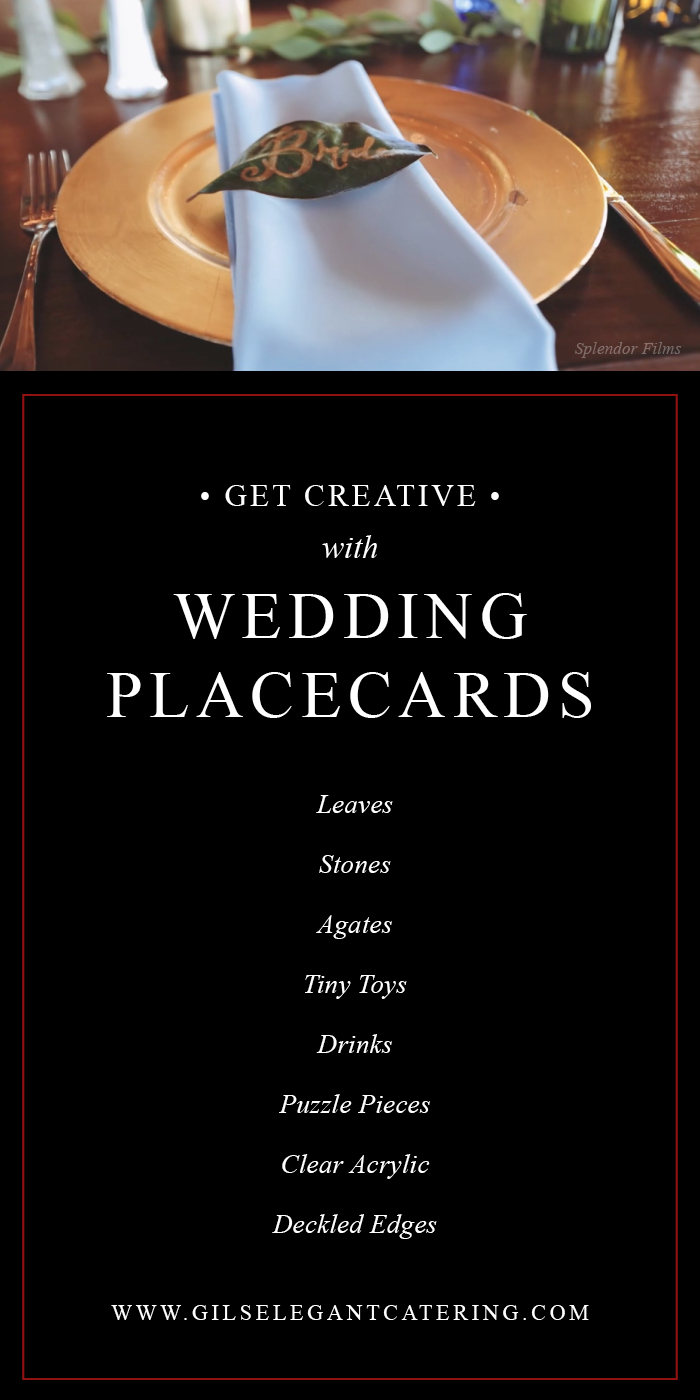 We hope your wedding planning has been smooth sailing thus far and that you're enjoying the process… after all, engagement is such a short season! Collecting inspiration is one of our favorite parts of the planning process. There's plenty out there to inspire when it comes to custom wedding menus and memorable displays. We've already filled you in on our favorite menu display ideas, but the menu isn't the only area with room for creativity… we love to see what brides are doing with wedding place cards!
Wedding place cards are a fun area for getting creative and adding a personalized touch to your wedding décor. As with all things, a smaller guest list allows for greater out-of-the-box thinking and customization… but even with a larger guest list, place cards are a small detail that make a big impact. When placed just above your delectable plated dinner, or atop an empty plate prior to a delicious buffet, place cards go a long way when it comes to impressing guests at any wedding.
Take a look at a few of our favorite ideas for creative wedding place cards:
Leaves: leaves in any season make stunning wedding place cards. Summery palm fronds, vibrant green leaves, and fall-colored leaves each add a distinctive look to your wedding theme. A calligrapher can write on any of these for that personalized touch. Go the extra mile with gold dip paint along one edge of the leaf or pretty ribbon tying it to your napkin.
Stones: natural stones are a great place for an earthy touch. Keep your décor feeling organic yet sophisticated with stones that complement your theme. Hand-lettering will add the elegant element you need to keep a natural look in balance.
Agates and Geodes: a major trend in wedding décor right now, natural gems are provide the perfect surface for a calligrapher's touch. Chose geodes in your wedding color scheme to tie a cohesive detail throughout the venue.
Tiny Toys: attach your name cards to tiny plastic gold-painted toys that bring personality to the table without sacrificing elegance. Guests can take them home as a fun reminder of your special evening.
Drinks: fix place cards to mini booze bottles to get the party started with tiny sips. Of course, this is also easy to create for nonalcoholic weddings—just use a charming glass of lemonade or an old-fashioned milk bottle brimming with a custom nonalcoholic cocktail for a unique twist.
Puzzle Pieces: you've found your better half… what better way to announce it than with puzzle pieces? Write guests' names on each piece, or use large puzzle pieces for table numbers throughout.
Clear Acrylic: this trend is perfect for the modern couple. Clear acrylic is chic alternative to paper goods, and keeps your wedding looking upscale.
Deckled Edge Paper: of course, you can never go wrong with traditional paper. If you choose this classic, think creatively about a twist you can put on your place cards to make them unique. Soft deckled edge or brushed watercolor add a layer of personalization guests will remember.
We hope you'll put your own spin on unique place cards to accompany our delicious dishes. Just let us know if we can assist you with an overall creative vision, and how we can bring distinctively delectable flavor to your special day.
Catering Dallas | Gils Elegant Catering