Wedding Caterer DFW | Gil's Elegant Catering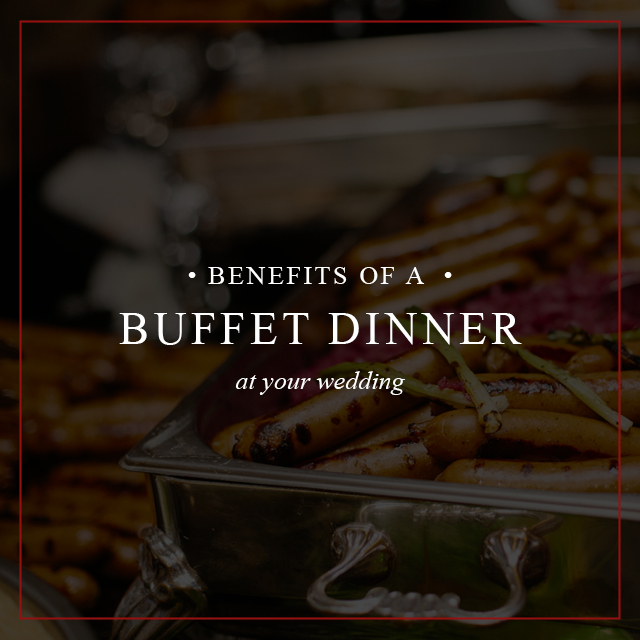 Still trying to decide which serving style is best for your special day? Buffet meals and plated dinners each have distinctive pros and cons; either one could be a good fit for your wedding day. Last month we brought you our top reasons to serve a plated dinner; today, we're taking a look at buffet-style meals. Take a look at a few benefits of serving your wedding dinner buffet-style:
Casual feel: for some couples, a plated dinner is a bit too formal. A buffet, on the other hand, creates a more casual atmosphere—which may be desired for an intimate reception or a more laid back celebration.
More food options: if you'd like to provide multiple entrées or sides, a buffet could be your best bet. Serve multiple dishes, allowing guests their choice of delectable foods. Plus, guests can easily pass on any dishes that might not suit their palette.
No wait time between courses: while a multi-course meal can actually help schedule flow, it does involve a brief pause between each course. A buffet, on the other hand, allows guests to enjoy the full meal all at once, without waiting for each new dish to be served.
Easy planning: take a look at our buffet options to form a pre-selected menu. Once you've decided on your buffet items, there's no need to track guests' food preferences or worry about a seating chart that will appropriately serve chicken or beef to each guest. A buffet can help alleviate planning stress from the bride and groom, without sacrificing amazing food and service!
No matter which route you take, Gil's Elegant Catering will always bring delicious flavor and impeccable service! We set our standards high, for any serving style. Visit us to learn how Gil's came to be known as the top wedding caterer DFW has to offer; our incredible food is renowned throughout the metroplex, and our service standards are unmatched. We hope you'll give us a call and schedule a consultation so you can see for yourself!